Our restaurant in Brixen city centre
For holidaymakers, for South Tyroleans, for everyone
"Fine food. Fine drinks." That's the slogan of our restaurant in Brixen city centre and it shapes everything we do. You can look forward to fine creations, matching wines, and delicious cocktails as the crowning glory of your gourmet evening. Here at our Soley restaurant in Brixen, which is loved by holiday guests and Brixen locals alike, everyone who walks through the door is treated like an old friend. So, take a seat and enjoy refined dishes in a wonderful atmosphere.
A light lunch at our restaurant in Brixen city centre
Do you have a hankering for satisfying bites and tasty snacks while exploring the city? Then Soley is the restaurant in Brixen for you. It's located in our hotel in Valle Isarco/Eisacktal of the same name. The area: historic, picturesque, enchanting. The atmosphere: cosy and laid-back, perfect for Brixen locals and holidaymakers alike. Look forward to fancy snacks like tapas that you can share with your companions.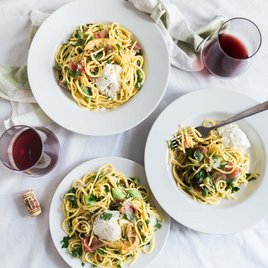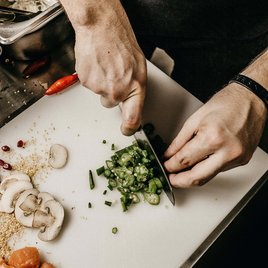 Sharing is caring at Soley restaurant
We take that literally at our restaurant in Brixen city centre – with our sharing table. The concept: Various dishes are served on a table where several guests can help themselves at the same time. The idea: meet new people, make friends, and have a good chat. Are you curious? Pay us a visit and give it a try!
Aperitifs
Cheers at our restaurant in Brixen city centre!
To love, friendship, your new job, your first home of your own, your engagement – raise a glass to the most wonderful, life-changing moments with your favourite people. At Soley restaurant in the Brixen area, as well as on the terrace and in our cool bar in Brixen, we'll prepare a range of refreshing and creative aperitifs for you to put the perfect finishing touch to your special moments. Cheers! You can also hold private events at Soley restaurant or let us organise your celebrations for you.
Wines
Liquid treats for connoisseurs
We're ready to welcome you at our restaurant with an extensive wine list that includes something to suit all tastes. We'll be glad to help you find the right wine to accompany your dishes. Fruity Chardonnay or full-bodied Merlot, floral Pinot Blanc or velvety Pinot Noir – which is your favourite?
… we can imagine no place more amazing than our hotel's rooftop terrace. Here, high above our restaurant in Brixen city centre, you can nibble on delicious snacks and raise a toast to the special moment with a glass of fine wine or a cocktail. And you can do so in absolute peace, as you can book the rooftop terrace for your own, exclusive use.
"Good company, good wine, good welcome, can make good people."