Relaxation in sight at our hotel with whirlpool
The term "well-being" means more than just wellness. Much more. It's about feeling good in every respect – that moment when you can sense that you're in the right place at the right time. And it's precisely that feeling that we want to give our guests at our hotel with whirlpool. Lose yourself in the moment, let everyday life fade away, and savour the feeling of pure relaxation spreading through you, all the way to your fingertips.
Our hotel with whirlpool on the rooftop terrace
FINE POOL. FINE VIEW.
Just imagine: You're watching the sun sinking behind the rooftops of Brixen in the evening. It bathes the scene in a warm, golden light. You look to your side and catch the eye of your holiday companion. There's no one else you'd rather be sharing this special moment with. You make a toast to good times and good company with a glass of sparkling wine from the honesty bar and just take it all in. This scene is no dream, but exactly what you'll experience at our hotel in Valle Isarco/Eisacktal.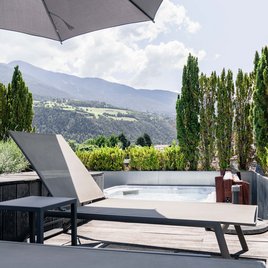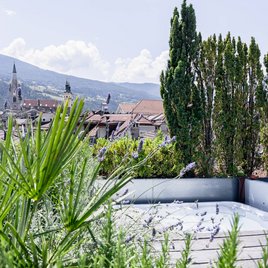 Soley isn't just a hotel with rooftop terrace and spectacular views over Brixen's charming lanes, but it's also a hotel with whirlpool on the rooftop terrace! You can reserve it exclusively for you and your partner or best friend so that you can relax in the bubbles of the whirlpool in perfect privacy and enjoy the advantages of an adults-only hotel together on your holiday in Brixen. Private moments in the whirlpool aren't all you can enjoy on the rooftop terrace, as it also offers the perfect setting for popping the question. We'll be happy to help you organise your big proposal or other special moments at our hotel with whirlpool.
Moments of pure well-being not only await you on our rooftop terrace, but also in some of our cosy suites. The garden junior suite, for example, is the perfect retreat for couples, as it's your very own suite with whirlpool in South Tyrol. Located in your private garden, the whirlpool is heated all year round and is waiting to treat you to relaxing moments.