A holiday in Brixen for city lovers and foodies
There are plenty of great reasons for choosing to spend your holiday in Brixen. We'll tell you all about them on this page – and by the time we're finished, we bet you'll have fallen madly in love. So, let's get your imaginary journey through Brixen started.
When you spend your holiday in Brixen, you'll be amazed by the city's fascinating history. It's the oldest city in Tyrol and was recorded for the first time as long ago as 901 with the name "Prishna". That means its history reaches back over a millennium! As the city was not only home to Brixen cathedral and the parish church, but also the bishop's palace, for hundreds of years Brixen was an important seat of the prince-bishops between southern Germany and northern Italy. The picturesque arcades and lanes, the listed old town with its cathedral square and Hofburg palace, and the cultural treasures that you'll discover during your holiday in Brixen are especially worth seeing.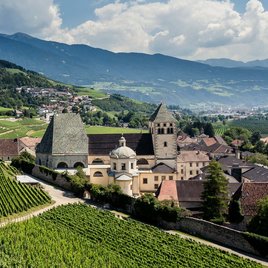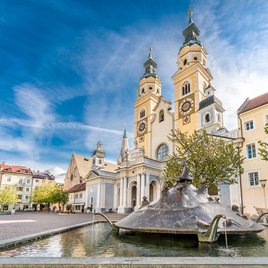 A holiday in Brixen means: a trip to the mountains!
A 427-kilometre network of hiking trails extends out around Brixen. Brixen's local mountain is 2,562-metre-high Mt Plose, which is only 20 minutes away from the city. The Plose lift lets you easily reach 2,000 metres above sea level, where you'll enjoy a fantastic 360° panorama of the Dolomites UNESCO World Heritage and the legendary South Tyrolean mountains. In winter, it's the perfect place to ski and snowboard, while lovely hiking paths and bike trails await you on the gentle slopes in summer. Adrenaline junkies will love the Brixen Bikepark with a range of flows and trails. If you're looking for the heights of action and adventure around Brixen on your holiday, our hotel in Brixen near Mt Plose is the perfect starting point! If you don't want to head up quite so high, you can also enjoy walks through the vineyards and fruit orchards near the city.
What else can you experience on your holiday in Brixen?
Around Soley, your hotel in Brixen city centre, there are numerous cultural, historical, and artistic attractions to visit. Stufels is the oldest part of Brixen and is also known as the "artists' quarter". A walk through Hofburg palace with the Herrengarten court garden takes you on a journey through time, and at Franzensfeste fortress you can see a permanent exhibition as well as various special exhibitions and learn more about the history of the region's largest defensive complex.