At Bar Thaler, just across from our hotel with restaurant in Brixen city centre, Brixen locals and holidaymakers, young and old, wine lovers and gin drinkers come together. Our bar in Brixen is the meeting point par excellence for everyone who wants to enjoy carefree moments in a cosy atmosphere. Whether you want to sweeten your shopping day with a creamy cappuccino and a croissant or fancy a delicious aperitif like an Aperol spritz or hugo spritz, our café in Brixen is the ideal place to take a break and unwind.
Energising bites at our bar in Brixen
When you sample the delicious, refreshing drinks at Bar Thaler in Brixen, you also simply have to try the tasty snacks and light bites that are served here until late in the evening. When you feel hunger stirring, there's nothing better than sinking your teeth into a hot, crunchy pinsa pizza or a toasted sandwich – don't you agree? All that awaits you in Brixen's historic centre, right opposite our hotel in Valle Isarco/Eisacktal.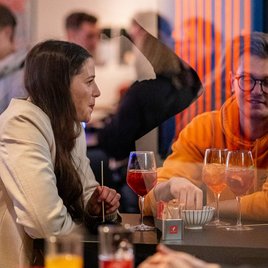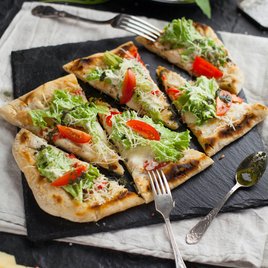 Morning, noon, and night at Bar Thaler
Morning: a crisp chocolate- or jam-filled croissant with a creamy cappuccino and a fruity orange juice. Noon: a light snack to give you an energy boost during your shopping tour, perhaps with a beer or a soft drink. Night: an aperitif with friends or your favourite cocktail to bring your day to the perfect close. Our bar in Brixen serves delicious food and drinks all day long.
Coffee, tea, and soft drinks
A fragrant taste experience
Espresso, macchiato, cappuccino … the coffees from Julius Meindl treat you to full-flavoured coffee indulgence. Various tea varieties whisk you away to distant lands. The large selection of soft drinks provides refreshment on hot days and quenches your thirst after exploring the city.
Aperitifs and cocktails
There's always something to celebrate!
Hugo spritz, Aperol spritz, Prosecco, gin and tonic, daiquiri, mojito, red and white wines … our aperitif and cocktail list is long and varied. At our bar in Brixen, you're sure to find the ideal drink for raising a toast with your favourite people. It's the place to be for sociable togetherness and fun, the ideal meeting point for young and old, travellers and locals.
"Great cocktails and excellent service!"